Rummy is a popular card game with a huge fan following among the punters in India, who play this game to kill boredom and earn money. Thanks to the introduction of online casinos, you can now access online rummy india from the tip of your fingers anywhere and have a good time.
Both beginners and veterans can participate in the game hosted by the top casino providers to win big. The rules of this game are easy to understand. Read this article till the end to find out.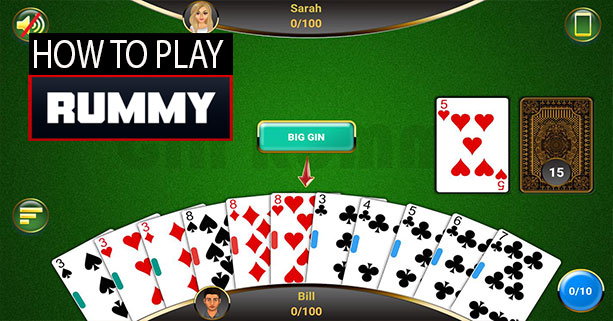 The Objective of Rummy
The objective of this card game is to arrange the 13 cards in valid sets and sequences. To win the game, you have to make a minimum of two sequences, out of which one needs to be pure, and the rest can be any valid sequence or set. Without a pure sequence, you cannot make a declaration.
How to Form Sequences?
A sequence in rummy is a group of three or more consecutive cards of the same suit. There are two types of sequences.
Pure Sequence
A pure sequence is a group of three or more cards of the same suit, placed in consecutive order. You cannot use the Joker or wild card to form this suit.
Impure Sequence
An impure sequence is a group of three or more cards of the same suit with one or more Joker.
How to Form Sets?
A set is a group of three or more cards of the same value but of different suits. You can use a wild card or Joker while forming sets.
How to Play Rummy?
The game is played between 2-6 players, and each one is dealt with 13 cards, with a two 52-card deck and 2 jokers (wild cards). Each player deals with the card in a clockwise direction. The cards in each suit rank low to high, beginning with Ace, 2, 3, 4, 5, 6, 7, 8, 9, 10, Jack, Queen, and King. Ace, Jack, Queen, and King have 10 points each, and the remaining ones are equal to their face value.
A random toss is done by the online system that decides which player should make the first move.
Each player is dealt with 13 cards face down, and the next card from the deck is placed up on the table, which you can see from your screen. It begins the discard pile/open deck.
The remaining cards are placed face down in the center of the table – stockpile/closed deck.
A card is picked from the stockpile and placed face up under the stockpile so that it is visible. The player can utilize all the cards as additional jokers or wild cards.
Once a player has formed the required runs and sets with all 13 cards, he declares the turn. A valid declaration must have a minimum of two runs, and out of them, one must be pure. Once the objective is met, he can declare by clicking the 'Declare' button.
Once the declaration is made by one of the players, the rest of the players on the table must form and declare the valid sets and sequences. Their unmatched cards are counted. Every player must meet the requirements of a minimum of two runs, else all 13 cards are treated as unmatched and are counted. When all 13 cards are unmatched, the player loses 80 points. The maximum points that can be lost are capped at 80 points per round.
If the player drops from the game without picking a single card from the discard pile or stockpile, he loses 20 points. Upon dropping in between a hand or before any other player has made a valid declaration, he loses 40 points.
Once the points are calculated, the winning amount is reflected in the winner's account.
Key Rules of Online Rummy
You can make a non-pure sequence from a joker or wild card as a substitute for any missing card. Joker can be used in any sequence or set without restriction.
A set consisting of 3 or 4 cards of the same rank but of different suits or 2 or 3 such cards and a joker.
After each loss point is calculated, the winner takes home the prize of the game.
All the unused jokers can be separately placed, while declaration. Each of them holds 0 points.
When the printed joker card opens as the wild card joker, the aces are considered wild card jokers.
How to Win Online Rummy Games?
It is important to learn rummy rules before trying your hands in this card game. Likewise, it is vital to play it carefully and with focus. Here are some tips and strategies to improve your game and increase your winning chances.
Try to form a pure sequence from the beginning of the game. You cannot make a declaration without a pure sequence.
Discard cards with high points like Ace, Jack, Queen, and King and replace them with Joker or Wild cards, for this strategy will reduce your point load.
Avoid picking from the discard pile as much as possible, as it gives away what hand you are trying to form.
Always look for smart cards. For instance, a 7 of any suit can work well with 5 and 6 of the same suit and 8 and 9 of the same suit.
Jokers are an important card in the game and try using them to replace your high-value cards. But you cannot use Joker or Wild to form a pure sequence.
When you want to make a declaration, check and recheck your cards and then press the button. An invalid declaration will turn your win into a loss.
Benefits of Playing Rummy Online
Rummy is one of the easiest games to learn. Owing to the introduction of online Rummy, it has become possible to play the game from any corner to kill boredom. Thus, whether you are at home or traveling, you can always sign up with a casino hosting rummy and play this game to get a good dose of entertainment.
Playing this game frequently will give you enough practice, thereby enhancing your skills. You can use these skills to multiply your winnings and collect a handsome cash prize.
Some rummy platforms offer a welcome bonus to beginners upon signing up. It is a big opportunity to get some money credited to your account.
With the help of online rummy, you can also participate in rummy tournaments and expect to win big.
The high resolution and great user interface of online rummy hosted by the top casinos of the world will always give you a thrilling experience.
Online rummy has taken the whole online casino game industry of India by storm. The only thing to keep in mind before indulging in this game is to find a licensed platform to play on.